Product features
IP30
LCD display
Veria Logic Sensor (sensor check)
Floor and room sensor
2-year warranty
Max. load
Operation voltage
Precision
Sealant rating
Sensor type
Size
Standby consumption
Temperature range
Warranty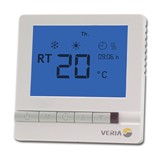 Veria Controls
Veria Control T45
13 A - 2,990 W at 230 V
180-240 V, 50 Hz
+/-1°C
IP 30
NTC
86 mm x 86 mm
<2 W
5-45°C
2 years
| | |
| --- | --- |
| Product number | Description |
| 189B4060 | Veria Control T45 |
| | |
| --- | --- |
| Product number | Description |
| 189B9139 | Veria Control T45 box for wall mounting |
Top-notch user-friendliness
The Veria Control T45 is an advanced, but easy to use, digital timer-controlled thermostat with a large LCD digital that can be used to control your floor heating via a floor sensor, room sensor, or a combination of the two.
Save energy
The Veria Control T45 is equipped with a weekday and weekend programme, both of which can be used to divide a given day into four time zones. This means you can opt to only heat your floor/room during the necessary periods in order to save both energy and money.
Modern design
With its elegant and discreet design, and with a thickness of only 14 mm on the wall, the Veria Control T45 fits nicely in any room and in any home.
Accessories
Sold separately