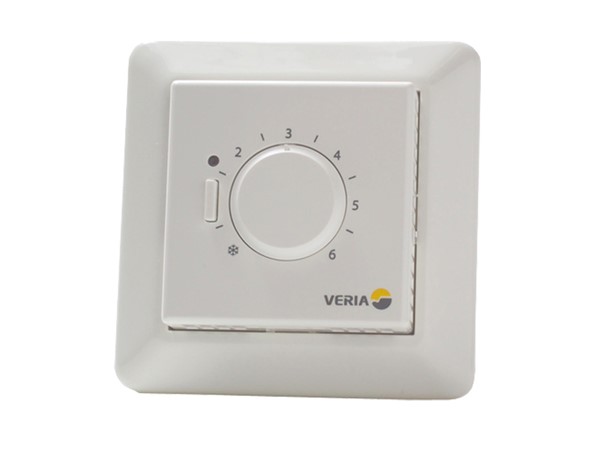 Product features
IP31
Veria Logic Sensor (sensor check)
Floor Sensor
2-year warranty
CE-marked in accordance with EN/IEC 60730-1 and 60730-2-9
Max. load
Operation voltage
Precision
Sealant rating
Sensor type
Size
Standby consumption
Temperature range
Warranty
Veria Controls
Veria Control B35/45
15 A - 3,450 W at 230 V
180-250 V, 50 Hz
+/-0.5°C
IP 31
NTC
85 mm x 85 mm
<0.25 W
15-35°C (B35) / 5-45°C (B45)
2 years
| | |
| --- | --- |
| Product number | Description |
| 189B4040 | Veria Control B35 |
| 189B4050 | Veria Control B45 |
| | | | |
| --- | --- | --- | --- |
| Frame programme | Veria thermostat | Adaptor | Product number |
| Berker B1 / B3 / B7 / S1 | Veria Control B35/45 | | 189B4040/189B4050 |
| Gira E2 / Standard 55 / Esprit / Event | Veria Control B35/45 | | 189B4040/189B4050 |
| Hager Kallysto | Veria Control B35/45 | | 189B4040/189B4050 |
| Merten M-Plan / M-Arc / M-Smart | Veria Control B35/45 | | 189B4040/189B4050 |
| PEHA Standard / Standard Line | Veria Control B35/45 | Adaptor frame 80.670/55.xx | 189B4040/189B4050 |
| PEHA Aurora Glass / Aurora Spiegel | Veria Control B35/45 | | 189B4040/189B4050 |
Precise and easy operation
Veria Controlling B35/45 is a precise and easy-to-operate thermostat that controls your floor heating system via its floor sensor.
Protection from condensation
The thermostat has an IP31 sealant rating, which means that it can protect against condensation and is thus suitable for bathrooms and wet rooms, in accordance with local building regulations.
Select the right thermostat
Moulded and wooden floors have special maximum temperature limits, which is why the Veria Control B series is available in two different versions.
Veria Control B35:
Thermostat with a 35-degree temperature limit used for floor constructions consisting of wood, laminate, or similar materials (either as subfloor or top surface).
Veria Control B45:
Thermostat with a 45-degree temperature limit used for moulded floors with a surface of quarry tile, tile or a similar material.